Did you know Americans consume3.2 billion pounds of bananas every year?If you're looking for materials to use for your next art project, why not use something that almost everyone has in the house? You guessed it- bananas. Read on for ten creative banana ideas for your next arts and crafts project.
1. Toothpick Banana Drawings: The Invisible Trick
Watch your kids be amazed by this invisible toothpick banana art project. The only materials you need are a toothpick and a banana.
Using a toothpick, draw whatever you fancy on the banana. Silly faces work well. At first, your drawing will be invisible. After waiting for an hour, your banana drawings will slowly appear.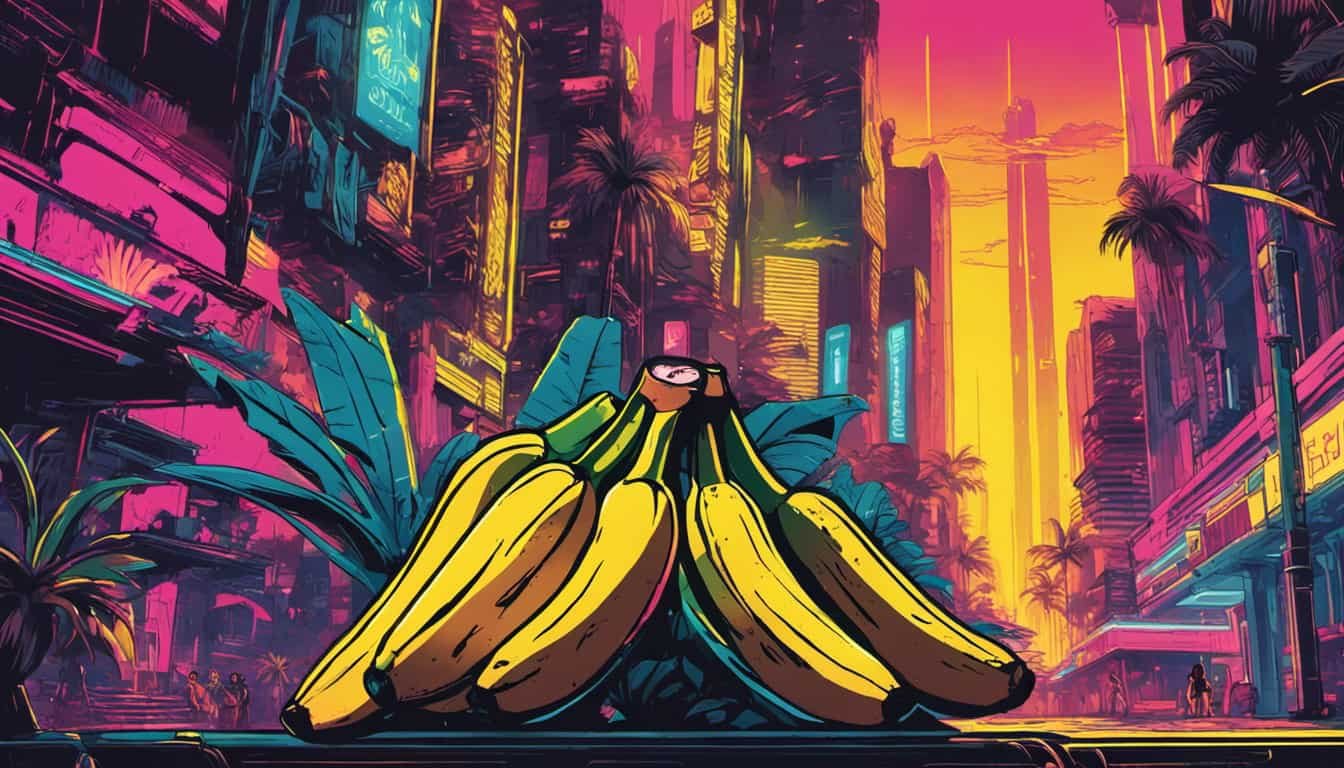 Toothpick banana drawings are also an amusing addition to school lunches once school is back in session.
If you want to take this art project to the next level, check out this fun banana fact article that will enthrall your little science whizzes at home.
2. Make Dolphins Out of Bananas: Silly and Snackable
Making dolphins out of bananas is the perfect edible arts and crafts project.
All you have to do is take a banana, cut it in half, and then slice the banana stem in half. The sliced stem creates what looks like a mouth.
If you want to turn it into a snack, put it in a cup and throw in some extra fruit, like blueberries or strawberries. Toddlers and younger children will love the silly dolphin banana characters and eat it right up.
Are you feeling extra creative? You could even throw some goldfish crackers in the dolphin's mouth and use it as a teaching moment.
If you are looking for more banana recipe ideas, check out these six delicious banana recipes.
3. Kids' Birthday Party Banana Ideas
Looking for healthy and affordable party favors for your child's birthday party? Look no further than bananas. You can even make the favors the day before as a fun art project with your little one.
If you're short on activities for the party, party guestscan even make their own banana character as an amusing activity.
What is more fun than banana characters? Bananas can be pirates, hula dancers, dolphins. No matter what your birthday party theme is, a banana can probably fit the bill.
4. Banana Photography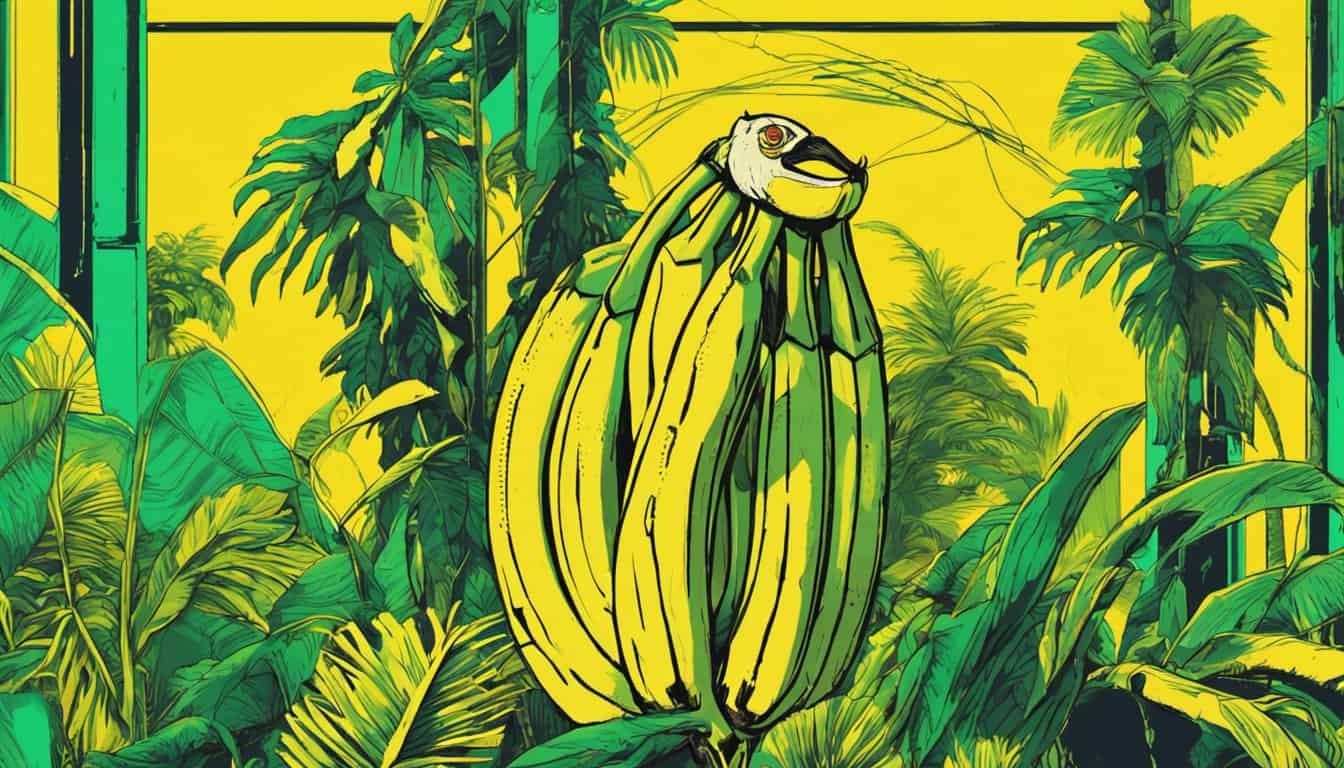 Are you a photographer or aspiring photography? Are you out of ideas during this creatively uninspiring pandemic? You can try something out of the box and shoot a banana or a bunch of bananas.
If you're looking for some inspiration, look no further than photographer David Schmidt, from Richmond, VA.
Whether you shoot black and white or color, food is an excellent subject, and bananas are something everyone usually has on hand.
5. Paper Mache Bananas
If you don't mind getting a little messy, paper mache is a great arts and craft project. The big question is, what do you make with your paper mache? Bananas, of course.
Here is a list of what you will need for this banana art project.
Bananas
Newspaper
Water
Flour
Spoon
Masking Tape
Yellow paint
A large mixing bowl
After you have gathered your supplies, you can follow these instructions to make some epic paper mache bananas.
Put the bananas on a table and observe their shape. Using the bananas as a guide, craft your own banana shape using newspaper and masking tape. Tape the newspaper-shaped bananas up as much as you can, while retaining their shape.
Next comes the messy part, which kids always seem to love the most. Add two cups of flour and two cups of water to a large bowl, then mix it up.
Cut strips of newspaper into four to six-inch pieces.
After your preparation work is complete, it's time to get to work with making your bananas. Dip the newspaper strips into the flour and water mixture. It's a good idea to remove excess goop off the newspaper, so you apply a thin piece to your banana.
Next, wrap the paper mache newspaper strips around the newspaper banana shape that you created. Ideally, cover your whole banana art piece with two to three layers of newspaper strips.
Now, the hardest part about this awesome banana art project is waiting for it to dry. Let your project sit in the sun for about 24 hours until it hardens.
The next day you can paint your paper mache banana yellow, or whatever color your creative mind deems appropriate.
Paper mache bananas are the perfect decorations for playrooms or toddler rooms.
6. Conduct a Duct Tape Banana Experiment
If you're up for a bit of mischief, you could duct tape a banana to a wall and see if someone peels it off and eats it. This art experiment would be a fun thing to try at home or work.
After your art experiment is over, you can explain to your family or your coworkers the premise behind the idea.
In December 2019, a piece of art consisting of a banana that was duct-taped to the wall sold for $120,000 at a Miami art show.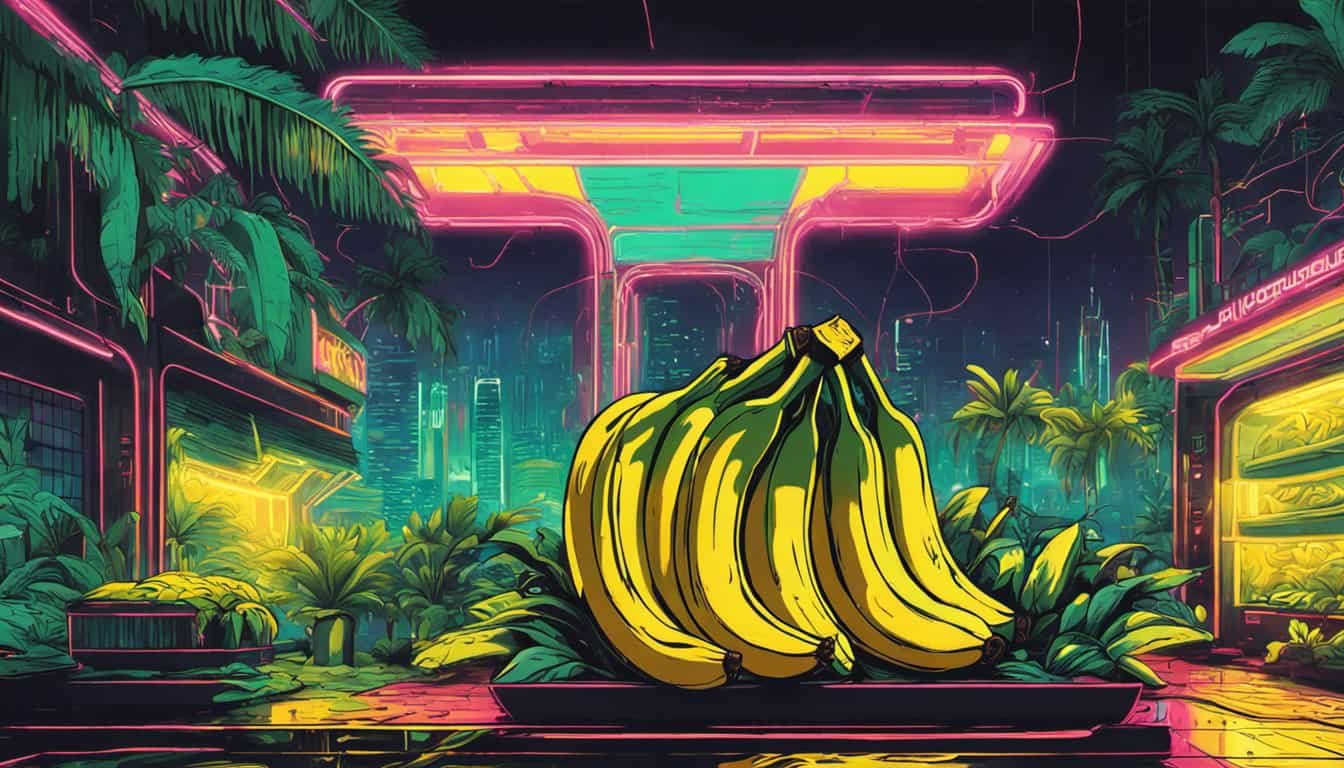 As if that story isn't bananas enough, after the piece sold, a hungry artist, David Datuna, peeled the banana art off the wall and ate it.
After eating the banana, he expressed no remorse regarding his actions. Datuna claimed that eating the piece of art was, in fact, "performance art."
7. Banana Peel Octopus
Are your kids into sea creatures? Learn about a fun sea creature, the octopus, and then make your very own octopus using a banana.
Follow the instructions below to make an octopus banana peel craft.
Partially peel a banana, roughly three-quarters of the way. Leave the top of the banana to use at the octopus' head.
Cut off the part of the banana that is unpeeled. Don't throw it away. You can slice it up at the end of the craft to eat as a healthy snack.
Take a knife and cut the banana peel into eight pieces, so you have eight octopus arms. This task is better left to the adults.
Now your octopus needs eyes, and you can get as creative as you want with this part of the craft. If you have googly eyes handy, those would be super silly. You can also use cloves, which will stick into the banana peel easily.
Use a toothpick to draw a nose and a mouth, or whatever your heart desires.
When your octopus craft is complete, you can arrange it on a plate for a fun snack. Or, you could place it on a piece of blue construction paper and have your little ones draw other sea creatures around it.
8. Homemade Banana Valentines
If you're looking for creative Valentine's Day ideas, look no further than this fun banana idea for homemade and affordable valentines.
First, decorate as many bananas as you will need. Fun things to include are googly eyes and pipe cleaners. Pipe cleaners can make fun eyebrows or mustaches.
Use markers to draw whatever you would like. You can make banana characters or simply draw unique pictures.
Write Valentine's Day notes on pieces of construction paper.This is the perfect place to put a goofy note, including bananas, of course. You could write, "I'm bananas for you," or any other fun, catchy phrase.
Take a hole punch and punch a hole in your construction paper note. Then attach your note to the stem of the banana with a piece of ribbon or twine.
9. Banana Caterpillars
Is your little one into The Very Hungry Caterpillar by Eric Carle? Try reading the book together, and then making caterpillars using bananas.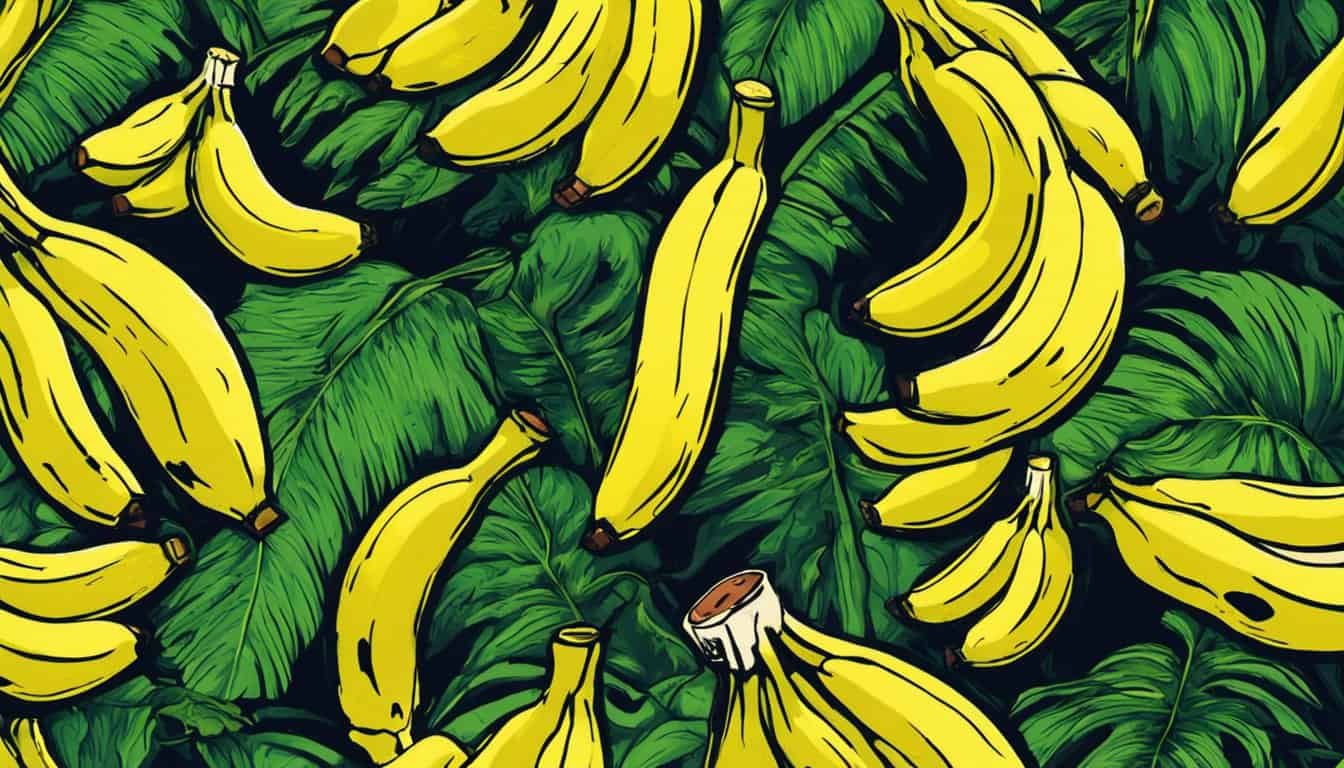 This banana art craft is simple, fun, and only takes about ten minutes. Best of all, you only need three items to make your caterpillar, including sprinkles, bananas, and a pretzel stick.
First, peel your banana and slice it up.Thickness doesn't matter, just slice the bananas the way you'd like to eat them.
Next, line the slices up on a plate in the shape of a caterpillar. Then, add fun sprinkles on the banana pieces. If you have black sprinkles, those make great eyes.
Lastly, break the pretzel stick in half and use that to make the caterpillar antennae.
10. Thank You Banana Art
Are you trying to say thank you to someone for all the wonderful things they do for you? The perfect way to say thank you is with a piece of art made from bananas.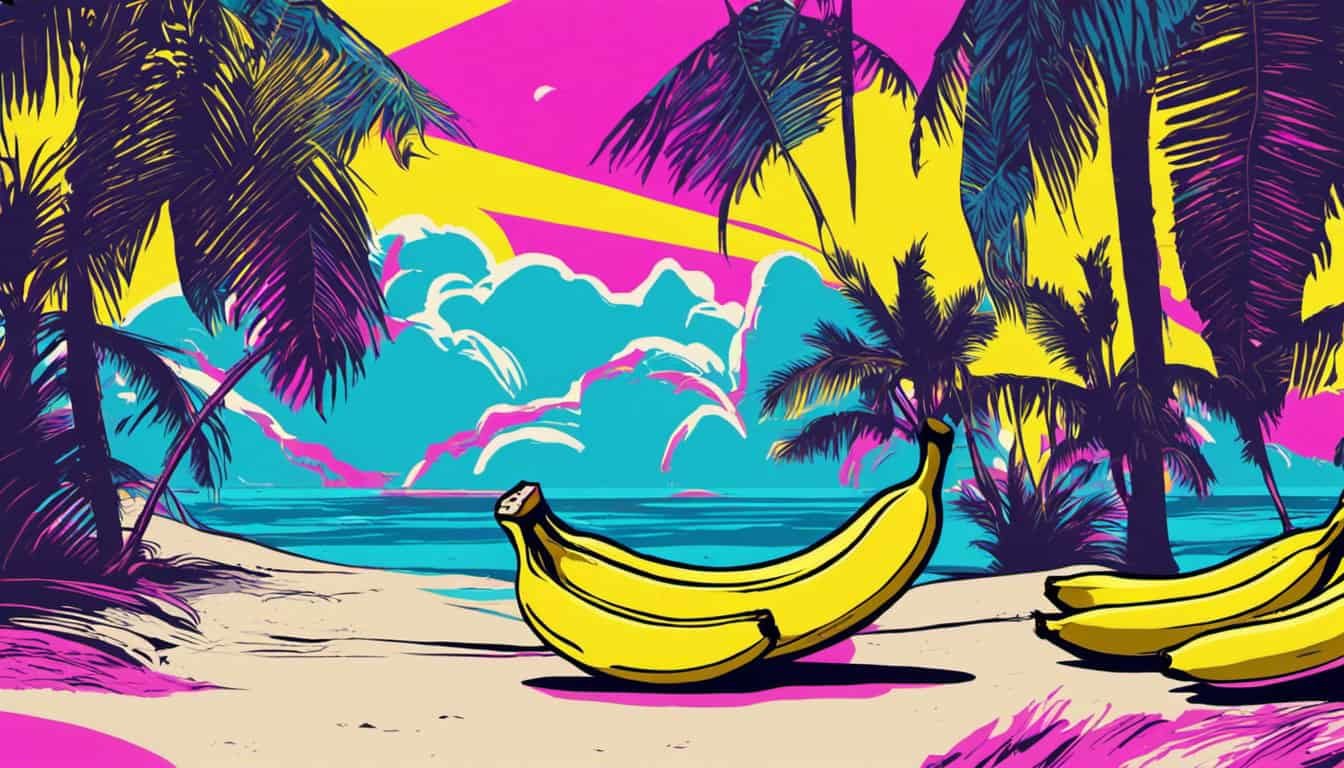 First, design your custom thank you card. Use a nice piece of paper and take the time to create something beautiful.
On the front of the card, you can write, "Thanks a bunch."Use a hole punch so you can attach your homemade card to a bunch of bananas. Use a high-quality ribbon for an extra special touch.
This is a cheap and easy thank you gift and art project that's perfect for your children's teachers or your next-door neighbors who always go out of their way to help you.
Go Bananas
Now that you have tons of great banana ideas, it's time to start crafting. Whatever arts and crafts project you decide on, make it silly and be as creative as you want.
Are you looking for more information about bananas? Visit us today and sign up to receive updates about all things banana-related.